10 Effective Home Remedies for Dog Stung by Bees and Wasps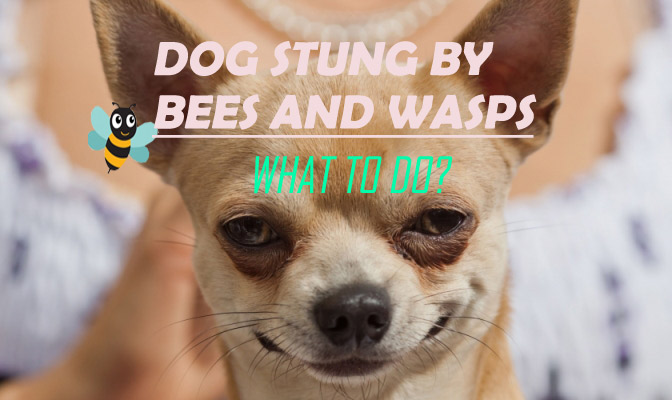 Dogs are curious creatures. And they love bullying creatures they think they can bully. These include bees and wasps.In fact, more than the size, it is the buzzing sound that sets them off like anything. So terrifying as it may be to you, your little puppy or old Bozzo won't think much before swatting one with a soft little paw or running after a few whacking their jaws till.. ouch, they get bitten.
How would I know if my dog had been stung?
Bee stings are very painful and unless your dog has some other pre-existing medical condition, in at least 99% of cases they would display some or all of the following symptoms:
General symptoms: Crying, running in circles, excessively salivating
Mild symptoms: swelling of the area and other areas as well, scratching, licking, rubbing and/or chewing at the sting or the area of the bite, thinking of ear flaps
Severe symptoms: allergic reaction to bee sting like severe swelling, especially of the face, neck and the throat; hives; vomiting; difficulty in breathing; trembling, weakness, disorientation; pale gums; diarrhea and excessive urination or losing control of bowels; collapse, and even death.
How do bees sting?
A bee sting is different from a wasp or hornet sting. A bee sting is barbed, while a wasp is not. A bee leaves the sting behind and dies, the hornet does not. And a bee sting is more venomous.
Dogs generally get stung on their nose, because that is what they use to explore the world. A single bee is probably not that harmful, but a few are, and it is best not to think of what a hive full of bees may do when doggy gets too curious about the strange looking object hanging from an accessible branch. The worst part is, unlike us, a dog may not always run away when set upon by bees but may try and attack them out of fright, or may run and hide till it is too late.
Remember that the responsibility here is entirely yours. Ensure in the first place that there are no hives or meeting places for bees where your dog roams. Bees sting dogs for exactly the same reason they sting us – they are terrified and they would die fighting.
Why are bee stings dangerous to dogs?
It is the venom, not the puncture itself, that's dangerous (which is just any other wound). Of course, you don't want any secondary infection on that spot. Every time your dog is stung, a little venom is injected into his body, which may or may not be sufficient to trigger an allergic reaction.
Types of bee stings:
A lot depends on the size and weight of the dog, its age, and the number of stings. Stings can be classified under any of the following categories, with the symptoms of the first two being interchangeable, while the last one always being a medical emergency.
Mild stings, which may or may not cause shock
Moderate stings caused by considerable quantity of venom
Severe stings may cause anaphylactic shocks, which is a life-threatening condition characterized by the severe symptoms listed above. Remember that an anaphylactic shock is not always immediate, meaning that your dog may develop shock symptoms quite sometime after getting stung.
What to do when my dog is stung?
While a bee sting is, of course, very sudden, you need to remember that it is also one of the most common things that can happen to a dog and dog owner. So, the first step in treatment is to remain calm because your dog is definitely not going to do that for you. In fact, the sight of your dog howling in pain or silently suffering is going to terrify you. But unless you have yourself composed, you are going to further endanger your dog.
You may try to remove the sting yourself as doing that can help reduce the quantity of the venom. You can use an old credit card or wasp stingers for the purpose. Using tweezers is an absolute no-no because you may end up squeezing the venom sack in the process and thus further complicate matters. If you are not confident about doing any of these by yourself, DO NOT go on with it. Rush to your vet instead.
Ensure a comfortable place of rest for your dog while you make decisions and prepare things. DO NOT use over the counter painkillers, as most of them are poisonous to animals.
When to see the vet?
Ideally, it should be immediately following your doggy getting bitten. However, certain areas demand more attention than others. For example, you don't want to waste your breath if the sting is in any area above the chest like the face or eye and/or if there is a swelling anywhere in that region. The same applies to the tail and the tummy.
However, if the dog has been stung on his paws or his bum, you may try some first aid and sit down in front of her to keep watch. Most of the techniques here are for bites on appendages. If the swelling does not start decreasing in an hour or if there is some minor deterioration even, pack your bags and your dog and rush to your vet.
Sting treatment in dogs:
These are mostly first-aid treatments you should resort to before running to the vet.
1. Ice pack
This is the most basic treatment for a bee sting for your dog, and if the swelling goes away right after this, then your doggy is one lucky chap. Ice is the most basic way to reduce pain and inflammation and bring about comfort. Just wrap some of it in a towel and apply it on the sting.
But remember that not all dogs are tolerant to ice packs. You need to try a different option if doggy doesn't like ice or some condition restricts it.
2. Baking soda paste
This is one of the easily prepared home remedies you can use to treat your dog's swelling. Prepare a paste by mixing a teaspoon of baking soda with just enough water. Now apply just a small amount of it on the affected area. Put in a little bit only for the first time, as you need to test your dog's tolerance levels along with the effectiveness of the procedure. This method is the best to treat bee stings on the paws, however, you need to prevent him from licking it.
3. Aloe vera
Aloe vera is famous for its anti-inflammatory and skin tightening properties. It is a miracle worker against burns, and it works the same way for dogs stung by bees. Aloe vera is a natural analgesic, alleviating pain and bringing down the swelling.
However, be careful of synthetic products like creams with aloe vera. Never use a human product on a dog or any other animal for that matter. The best bet is using gel crushed out of aloe vera leaves.
4. Apple cider vinegar
Apple Cider Vinegar (ACV) is very good at neutralizing the venom from bee stings. And you can also use it to treat your dog. All you need to do is to soak a cotton ball or a Q-tip in the vinegar and apply it on the sting. You can repeat the process till the swelling subsides. However, this does not mean that you will rely on ACV alone if the swelling does not subside soon- rush your dog to vet the moment he gets stung. Remember that ACV can be very painful on the soft tissues, so try not to get it into your pet's eyes.
5. Benadryl
Benadryl, also known as diphenhydramine, is a common and effective way to treat dogs. While the standard dosage is 1 mg per pound body weight, it is best to consult with your vet before going on with it. It can be used two or three times a day. Some dogs may be allergic to Benadryl. Side effects may include drowsiness.
Benadryl is the most commonly used chemical compound for the treatment of bee stings in dogs, but it is extremely important to prevent overdosing. First make sure that the only active ingredient in whatever product you are using is diphenhydramine, and nothing else. In case your dog is obese or overweight, you need to calculate the dosage according to what her weight ideally should have been at her age. Benadryl overdosing can cause agitation, sedation, heart abnormalities, vomiting and many other problems. You don't need these when doggy is already in a lot of pain and trouble.
6. Epsom salt
Epsom salt is good for treating bee stings in both humans and dogs. There are two ways you can use it on your dog for the purpose – bathing and spot application. The salt acts by soothing the skin, reducing irritation and subsiding the swelling in the process. But check the tolerance level of your pets to the salt, which is a magnesium compound.
To prepare a bathing solution, dissolve a teaspoon of Epsom salt in two cups of warm water. Now use it to bathe your dog.
You can also use it for spot-on application. Dissolve a teaspoon of it in a cup of warm water and apply it on the sting with the help of a cotton ball or a Q-tip. Repeat the process till the swelling subsides. Again, do not rely on the salt alone for the treatment.
7. Calamine, Milk of Magnesia, or Hydrocortisone Cream
Hydrocortisone, milk of magnesia and calamine creams are great at reducing irritation of any kind and bringing relief. Normally, these can be used more than once a day. However, for your dog, you need to be careful about the kind of cream you are using and the exact composition. Colloidal oatmeal and regular oatmeal too have been found to have similar effects, and you can use either of these.
8. Witch hazel
This is another good way of getting rid of inflammation from stings and reducing swelling.
Clean your wound and ease the irritation by using witch hazel to the sting using a Q-tip or a cotton ball. It can be applied several times a day. Witch hazel is also good at reducing itching, a frequent allergic reaction after a bee sting.
9. Crushed Plantain Leaves
Plaintain is more common in tropical homes, but it is a very good way of reducing sting swellings in dogs. Not only this, plantains can also draw out the bee venom and help in speeding up the healing process.
10. Homeopathic remedies
You may be cynical when it comes to the treatment of humans with homeopathy, but you would be surprised to know exactly how effective homeopathy is for small domestic animals like dogs and cats. This should always be administered under guidance though, and the relative paucity of veterinarians having homeopathic knowledge on animals makes it very difficult to realize its potential on our furry friends. Calendula, for example, can work wonders on kidney patients intolerant to allopathic antibiotics.
For bee stings on dogs, if the swelling is hard, there is Vespa Crabro made from wasps, while for mild symptoms there is ApisMellifica, made from crushed honeybees. Cantharsis is yet another remedy for serious inflammation.
What to do if my dog eats a bee?
Nothing, till anything happens. A bee is just a fleshy insect for your dog and should be treated as such by you as well. But it is a severe emergency if there is a bee sting on your dog's mouth or throat in the process because then there would be a huge swelling in the area making it difficult for them to breathe. The stinging may happen even in the gullet or the trachea while the live bee is moving down, though that is a little unlikely. But the moment you perceive a bite in the mouth, do not delay a second and rush to your vet. Preferably inform them of the emergency before arrival.
What can I do to prevent bee bites?
These are always accidents and needed to be treated as such. What you can actually do is ensure that there are no hives or wasp nets in or near areas frequented by your dog. That's because a whole swarm will be inevitably fatal for your dog.
Another thing to keep in mind is to protect your dog from being stung soon after the first bite or after the treatment because then the new venom will simply get added to the older one and strengthen its action on your dog's body.
If you have to inhabit near bees for some reason or the other, you can boost your dog's immunity to bee venom and resultant allergies by talking it out with your vet. You can also carry an Epi-Pen along with you.
Preventing a bee sting to your dog is easier than treating a dog bitten by bees. Your dog is like a child, and you need to understand that their protection measures are similar and need to be comprehensive. A bee sting its extremely painful and may as well be fatal, and while complete prevention is impossible, reducing the frequency or the chances isn't.
Read here: